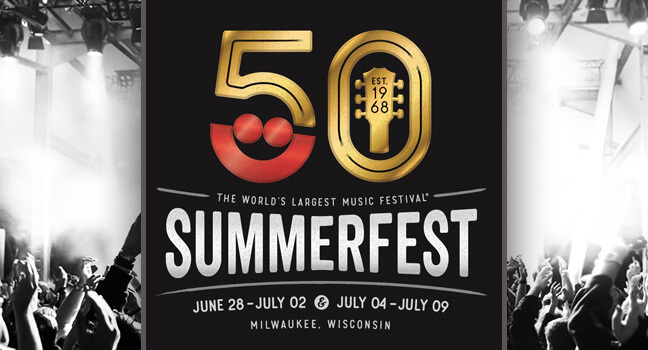 Summerfest which takes place at the Henry Maier Festival Park along the lakefront in Milwaukee celebrates this year 50th edition. With approximately 850,000 people each year from Milwaukee and around the world, it's recognized by Guinness World Records as "The World's Largest Music Festival" and cities main summer event. The festival lasts for 11 days and since the 1986 its taking place from the end of June through the beginning of July, commonly including Independence Day or mostly known as the Fourth of July holiday. During the festival, there are more than 1,000 performances, 800 acts, 11 stages, food and drinks and interactive activities, all in an exceptional festival environment. It is must visit place for all music fans. You will find rock, pop, alternative, country, R&B, reggae stars and more, from national headliners to indie artists.
We are more than happy to provide transportation for festival anniversary. On this year's festival, among others, it will perform Red Hot Chili Peppers, Zac Brown Band, Bob Dylan, Ziggy Marley, P!NK, Future,Toto, The Chainsmokers, Tom Petty & the Heartbreakers and more.
Don't miss this great feast of music and secure your black car service. We are capable to host all clients. Our experienced chauffeurs have a wide knowledge of the Milwaukee area if you are coming from other parts of the country.
Beside music festival offers four shopping marketplaces where you can shop everything from music-themed jewelry to puppets, and also there will be a diversity of the area's restaurants offering on-the-spot tasty snacks to keep you fueled up and ready to rock.
Avoid heavy traffic and enjoy your ride to Summerfest. Use our booking app or call us at (414) 376-6868. Our customer support is available for you 24/7, 365 days a year. Simpy enjoy the luxury and comfort of our limos and let us take care of your transportation.