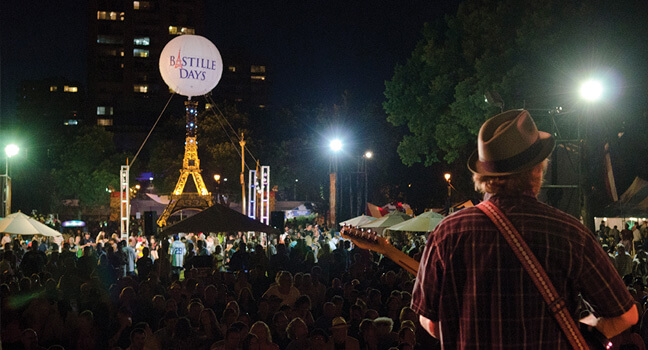 Milwaukee prides itself as the "City of Festivals" and with a very solid reason. Its Summer fest is considered to be the largest music festival in the world and has made it to the Guinness Book of World Records for that reason. This comes as no surprise since over a million people attend the event each year. But there is even more – several ethnic festivals are being held as well during the summer, celebrating various ethnic groups living in the city. And even though these events are being held on a smaller scale than the famous Summer fest, they still attract hundreds of thousands of people and some of them are recognized as the largest of its kind in the country.
Bastille Days
Popular ethnic festivals dedicated to the French culture has a tradition more than 30 years long. It lasts four days nowadays and attracts more than 200 000 people each year, who come to enjoy live music, French cuisine and much more. There is also a 43-feet tall Eiffel Tower replica on the spot and light shows are on display every hour. Bastille Days, known for spontaneous street performers, roaming entertainers and some of the best restaurant vendors, takes place in Downtown Milwaukee and is regarded as one of the country's largest events celebrating the French culture.
Festa Italiana
The largest Italian-American festival in the country takes place in the second half of July each year and brings the taste of Italy to the city of Milwaukee. Vendors serve the traditional Italian food during ethnic festivals, while visitors gather to enjoy the Italian music and find out more about the Italian culture. Various replicas of classic Italian landmarks can be seen around and gondolas can be spotted on Lake Michigan at that time. Festa Italiana is also known for its spectacular fireworks.
German Fest
Known as the "Largest German celebration in North America", German Fest also comes with a tradition more than three decades long.It is now held the last full weekend of July each year at the Milwaukee lakefront and is all about the culture and tradition of Germany and German-speaking communities from across the world, such as Austria, Switzerland, Liechtenstein or South Tyrol. Visitors enjoy traditional music and have a chance to learn more about the German culture. Many restaurants serving German food take part in the event, so it is also an opportunity to taste the German cuisine.
Various Ethnic Festivals
When planning to attend an event in the city of Milwaukee and need a reliable limo service to ultimately enjoy your journey, contact AJ Limo Milwaukee and let us offer you a ride that will only add up to your overall experience. Enjoy your summer in Milwaukee with us!