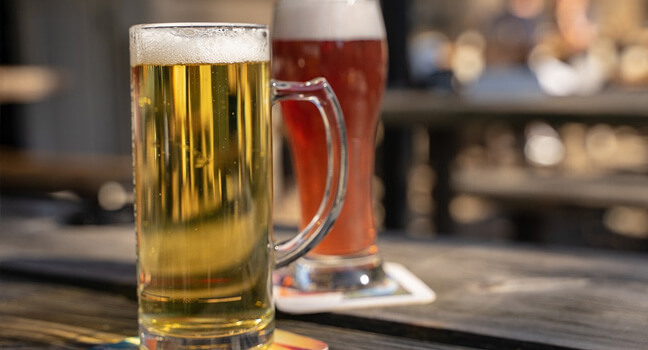 It's not news that October in Milwaukee is super fun and exciting. All residents and regular visitors will agree that the fun doesn't stop once the summer is over – on the contrary, October brings even more interesting events. From rock concerts to Halloween preparations – you can be sure that you'll find at least one thing (if not more!) to enjoy. So, if you opt for a fall vacation this year, Milwaukee never disappoints.
No matter if you travel alone, with friends, or family, October in Milwaukee is filled with a variety of different attractions that will satisfy everyone's taste. Sounds intriguing, right? You should know that you will probably be a bit overwhelmed by the plethora of events and you will want to attend as much as possible. While that can be challenging, with the right Milwaukee transportation company by your side – nothing is impossible! AJ Limo Milwaukee is there to serve residents as well as visitors the best limo rides in the area, without breaking the bank.
Even though every event is special in its own way, you should know which attractions are a must-see in order to plan your Milwaukee vacation to a T. Give AJ Limo Milwaukee a call and friendly chauffeurs will gladly take you to the following events (and not only).
1. Oktoberfest in the Bavarian Bierhaus
(Sep 06, 2019–Oct 05, 2019)
Is there a more pleasant way to spend an October weekend than enjoying the best beer, food, and music simultaneously? Not really! Oktoberfest is a widely known festival that gathers millions of people all around the world. Tasting delicious food and sipping a fantastic beer while enjoying the performances of your favorite musicians sounds like a dream come true. Heidelberg Park is proud to be celebrating 60 years of Oktoberfest in the Bavarian Bierhaus. You surely shouldn't miss the opportunity to relax, have fun and enjoy some music of the very talented artists, including (but not limited to)
Alte Kameraden
Edelweiss
Austrian Express
If you're wondering "How to arrive at Heidelberg Park?" you should know that AJ Limo Milwaukee has got your back with the second to none limousine service nearby. Driving after drinking is extremely dangerous, and that's why you should rely on AJ Limo to take care of your transportation and get you home safely. Having the best chauffeured car service in the Milwaukee area has never been easier – AJ Limo Milwaukee stands by to assist you.
2. DEEP PURPLE: THE LONG GOODBYE TOUR AT THE RIVERSIDE THEATER
(Oct 13, 2019)
After the last year's unforgettable Metallica's concert, this year is reserved for another super-popular rock band – Deep Purple. After seven decades of treating their fans with quality music, Deep Purple couldn't miss Milwaukee on their farewell tour. Don't miss the opportunity to enjoy the world's greatest rock hits live at the Riverside Theater. Give AJ Limo Milwaukee a call and travel to this one, and many other concerts in the back seat of the most comfortable fleet in the Milwaukee area. Book your black car vehicle in the vicinity with AJ Limo, and have the party start as soon as you step into your assigned vehicle.
Punctuality, luxury, and efficiency are priorities at AJ Limo Milwaukee. Pre-schedule your concert car ride close to your location as soon as you purchase the tickets and be sure that your chauffeur will get you to the Riverside Theater on time. An hourly service is the best option for this occasion, especially if you need to pick up your friends along the way and make multiple stops because of that. Give AJ Limo's customer support a call and talk over the services, vehicles in the fleet as well as rates – you'll be impressed by every aspect of your chauffeured car rental close by.
3. RUSSIAN BALLET THEATRE: SWAN LAKE AT THE PABST THEATER
(Oct 27, 2019)
The world's most famous ballet – Swan Lake, has been performed by the multitude of ballet ensembles over the decades. Don't miss the opportunity to enjoy the magic of dance and movements of one of the most famous ballet companies on the globe – Russian Ballet Theatre. A new production of the Russian choreographer Nadezhda Kalinina will leave everyone speechless. Arrive at the Pabst Theater in luxury and elegance that's a must when it comes to ballet performances. Pick your favorite suit or gown, and book your luxurious limousine ride in Milwaukee with AJ Limo – one of the classy sedans would be a perfect choice.
Why Should I Hire a Limo in Milwaukee?
Because attending all of these fantastic events in a short period of time can be really challenging if you don't have someone to take care of your transportation. AJ Limo Milwaukee's team of livery professionals guarantees a prompt and safe arrival to all your desired destinations. Don't waste your precious time with public transport and taxis that will cost an arm and a leg – a luxurious fleet of black cars near your location is at your disposal every time you put your trust in AJ Limo Milwaukee.
How to Book a Limo Near Me?
Have your smartphone on hand? Awesome! You can easily find AJ Limo Milwaukee's website by issuing a "limo near my location" "car service Milwaukee" or "chauffeured service in the vicinity" command. So simple, right? Now you can finish the reservation process on the website with the convenient booking widget, and your assigned chauffeur will be sent your way in no time. Other than reaching all of these events on time and in comfort, you can book your nearest limo in Milwaukee for your dependable airport transfers, professional and elegant corporate rides, as well as a reliable and efficient black car ride to all sports events in the Milwaukee area. AJ Limo Milwaukee has it all – book your limo now and enjoy every ride.