Providing Reliability and Timely Car Service
For many years now, AJ Limo Milwaukee has been providing an efficient and reliable airport transfer service to and from Mitchell Airport.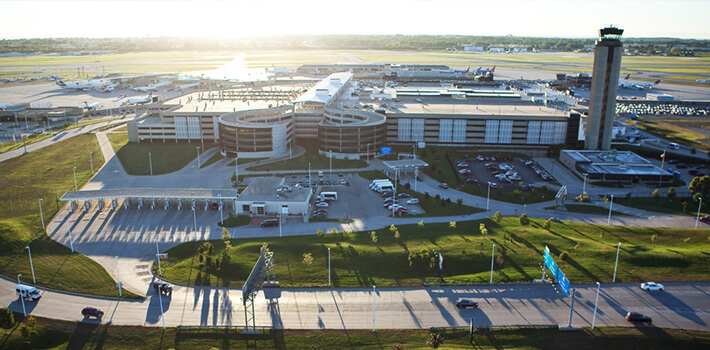 Offering direct flights to over 35 cities and one-stop connections to over 150 international destinations, this primary airport for Milwaukee serves passengers from Chicago's northern suburbs, Wisconsin and Northern Illinois. Next time you touch down, enjoy our Milwaukee Airport Car Service (Mitchell Airport) for the most convenient and comfortable way to get to your home or hotel. A long list of loyal clients from both business and nonbusiness sectors prove our quality in addition to many years of service under our belt. Our service is based around the concepts of reliability and comfort, offering our clients highest value for money with a professional approach and unmatched customer care.
Mitchell Airport is a civil-military airport situated about 8 km south of downtown Milwaukee, Wisconsin. It was named after a  United States Army Air Service General, Billy Mitchell. There are more than 200 daily departures between both domestic and international flights. It has one main terminal, three concourses and 48 gates in total. Next time you are wondering: "Where can I find a taxi near me, or a car service near me?", call us and enjoy the premium airport transfer service to and from Mitchell Airport (MKE).
Reliability and Timely Pickup
Our team of focused transportation professionals is determined to provide our clients the most comfortable airport transfer. Through diligent work and employment of innovative and sophisticated technology. When you pre-arrange a pick up, you can rest assured that AJ Limo Milwaukee will always have a driver ready to collect you when your aircraft touches down. No more missed flights or late arrivals at the airport. Apart from years of industry experience, our Milwaukee Airport Car Service (Mitchell Airport) is backed with the latest in technology.
With the use of software for live tracking of incoming and departing flights, our chauffeurs are always in the loop. This gives us the opportunity to foresee any delays or changes to the estimated schedule of your flight and act accordingly well in advance to ensure your pickup is always timely and our chauffeur is waiting for you at the exact agreed time. Check our rates here.
Milwaukee Airport Car Service
When you use our Milwaukee Airport Car Service (Mitchell Airport) expect the finest in quality. Starting with our fleet, you'll find quality features throughout, with clean and highly maintained vehicles. Enjoy a ride in luxury sedans, SUVs, stretch limos and large spacious vans for the finest airport transfer in Milwaukee. Keeping our high customer satisfaction rates and attentively meet all our client needs and ensure their comfort and safety while on board are our priorities. Our chauffeurs are seasoned professionals who will ensure your transportation is a smooth experience from the moment they greet you at the airport, assist you with your luggage until they get you to your final destination. Our team looks forward to having you on board and providing you the most comfortable airport transfer in Milwaukee.