Wedding limo service Milwaukee
Wedding transportation
It's time to tie the wedding knot? We have your transportation covered. Here at Elite Limo Milwaukee we understand that weddings are as unique as the newlyweds themselves and we offer a truly custom tailored transportation solution for your big day.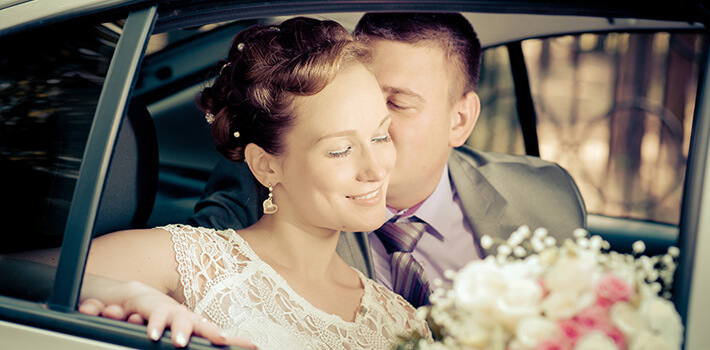 Our limo service Milwaukee has been designed to look after all your transportation needs getting you and your wedding party to the ceremony and celebrations venue swiftly and comfortably. With our elegant stretch limousines and professional chauffeurs behind the wheel, our service is unmatched in value. Leave all the planning to us and trust our years of experience to handle your transportation with utmost care. We are determined to make your transportation during this once in a lifetime event everything you've dreamed about and invite you on board our stunning fleet.
Opulent Experience
The key of our success lies in our clear communication and careful planning of your transportation. Our wedding specialists will assist you with your decision making and listen to your specific requirements, carefully putting a plan in place to meet your exact needs. Depending on what you have in mind select from our diverse fleet of highest quality vehicles. Our elegantly designed and luxuriously equipped fleet of limousines, includes leather seats, high-tech entertainment system, adjustable lighting and refreshments to make your transportation a most opulent experience. We are adamant at maintaining our high level of service and all our vehicles are cleaned to perfection arriving in pristine condition for your special day. Enjoy luxury at its finest when you choose our Wedding limo service Milwaukee.
Perfectly Coordinated Transportation
With our extensive experience in wedding transportation and a long list of satisfied clients, you can trust our team to deliver a prompt service on your wedding day. We understand the need of reliability and our professionally attired chauffeur will be promptly arrive, giving you plenty of time to board the vehicle and comfortably settle in. Elite Limo Milwaukee chauffeurs are hand-picked industry professionals who will go out of their way to make your wedding transportation an enjoyable experience. We look forward to having you on board on your special day when you use our Wedding limo service Milwaukee and promise to perfectly coordinate all your transportation delivering a ride just as you've envisioned.
Client Testimonials
A thoroughly exceptional Milwaukee limo service. Great chauffeurs and clean cars. Love the mobile app, it saves time and my destination preferences. The app and Elite limo service Milwaukee are making my travelling life easy and comfortable.
Andrew G.
---
I think Elite Limo's key strength is their powerful and luxurious fleet. They complement it with professional Milwaukee airport transportation, chauffeurs and responsive customer service. It is a match that is hard to find among limo companies in Milwaukee. Definitely a prime limo service Milwaukee.
Leon C.
---
I don't remember the last time I hired a Milwaukee limousine service that cared about customer satisfaction as much as Elite Limo Milwaukee. I thought this was a thing of the past. Elite's Limo service Milwaukee has taken fantastic care of me, my daughter and my grandchildren and organized a special Milwaukee airport transportation from the airport for our two dogs and the cat. They reassured us that the limousine and the pets' vehicle will arrive at the same time and they really did. We were all taken care of perfectly and cordially.
Lesley P.