Luxury Birthday Transportation
Celebrating your birthday? Let us help you make it unforgettable. Whether you're celebrating your 21st or 91st, our Birthday Limo Service will make your celebration a truly memorable event. AJ Limo Milwaukee is the number one luxurious ground transportation service provider in Milwaukee.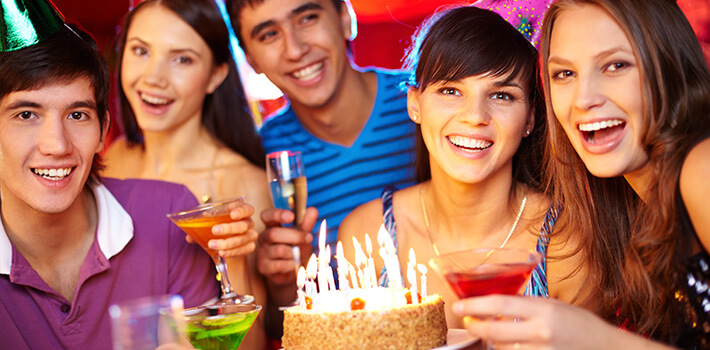 A wide range of services is there to meet particular clients' needs. For your birthday celebrations our team will consult with you, finding out exactly how you've envisioned your night or day and plan your transportation accordingly. Our experience and quality of service will shine through every time. Maintaining the highest level of service and exceeding your expectations during your birthday transportation are our priorities.
Ultimate Comfort
AJ Limo Milwaukee boasts a large, luxurious range of vehicles. Our fleet includes luxurious sedans, powerful SUVs, elegant stretch limousines and comfortable vans for larger groups. Regardless of the size of your party, our car will meet your request. Let us take care of all your transportation during your birthday celebrations. Our professional chauffeurs will promptly arrive in front of your door and will transport you and your guests in ultimate comfort. Whether you are off to a dinner at your favorite restaurant, planning a night of dancing or you have a day trip in mind, you can count on our premium Birthday Limo Service. When you choose our elegant stretch limousine, you'll find first-class quality features including fine leather seating, adjustable lighting, high-tech entertainment and drinks on board. All our vehicles arrive in pristine condition, fully inspected and thoroughly cleaned, upholding to the highest levels of hygiene and ensuring your comfort at all times.
Luxury Transportation with a Peace of Mind
Let us make your birthday celebration a memorable and enjoyable event. Our team of industry professionals will go out of their way to plan, execute and deliver the most perfect service. All our chauffeurs are fully licensed and trained with a wide local knowledge of Milwaukee and surrounding areas. Being experts in luxurious ground transportation with our years of accumulated experience, you can trust our team to deliver a perfect Birthday Limo Service. Once you have planned all the details and you just need a limo service near you, call us or book a car using the online booking widget.